VAP11G-500 High-power test process
Date: 2015-2-7   Hits:
75
一、Test purpose
Test the coverage of VAP11G-500 WIFI signal.
二、Test tool and environment
1.Test tool: 2 pcs VAP11G-500, 2 pcs power bank, one laptop.
2.Test environment: it is better to choose barrier-free area with less wifi signal interference, the
straight-line distance about 600m.
三、Build Test environment
1.Choose one VAP11G-500 as AP server, configure the IP to static IP and disable DHCP service.
2.Choose the other as AP client, configure it to connect the hot spot of firstVAP11G-500 .and then set up static IP and disable DHCP service.
3.The laptop connected the AP server via wired, and configure the laptop IP to static IP. The IP of laptop and IP of AP client should keep in the same segment.
For example: VAP11G-500 as AP server IP:192.168.254.254 gateway:255.255.255.0
VAP11G-500 as AP client IP:192.168.254.100 gateway:255.255.255.0
Laptop IP: 192.168.254.200 gateway:192.168.254.200
The connecting way please see as below: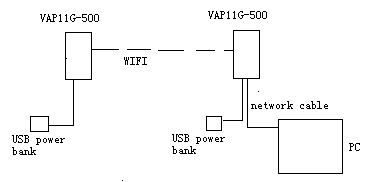 四. Test process
1) Put the AP server in one fixed position, and move the other VAP11G-500 and Laptop, use laptop to ping the AP server: ping -t 192.168.254.254
2) User can choose channel 2, 7, 14 to test separately.
Tips:
1)Please place these two VAP11G-500 in parallel rows and front-to-front.
2)Please use the standard power bank to provide power for VAP11G-500.