WiFi Repeater Application Solution
Time: 2012-12-26   Hit:
23
VAR11N is a plug and play professional WiFi repeater, together with mini WiFi router and WiFi intelligent bridge, the original creation core technology-- D/A temperature compensated auto frequency control technology(TAFC), make sure the lasting stability to ensure that the WiFi signal is not dropped, bring a new WiFi user experience.
In WiFi bridge mode + WiFi repeater mode, VAR11N can double expand the WiFi coverage, also can assure the security of WiFi signal, the work theory is: at the edge of the coverage range of the original WiFi hot spot, put VAR11N with "WiFi repeater", VAR11N can make the slight WiFi signal receiving to amplify to normal, safe strength and through optimization and error recovery to reach the safe signal coverage distance double to expand. This is different from traditional WiFi signal amplifier---just amplify signal and ignore WiFi security.
Step 1: Connect computer, please see the following picture 2.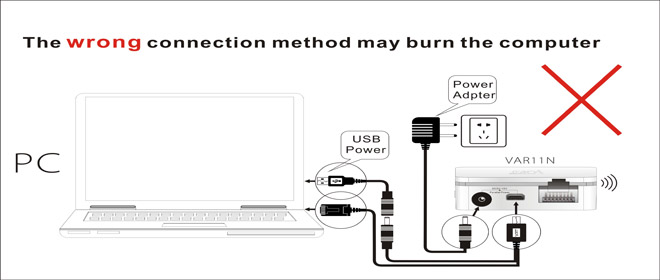 Be sure not to use Picture 1 to connect computer, please connect according to Picture 2.
Step 2: Open Browser
The specific steps, please refer to the chapter 6 of VAR11N user manual: WiFi Bridge mode setting.

After configuration, please refer to the following picture to connect: