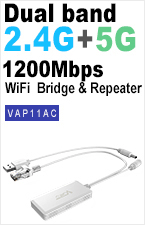 Hits:909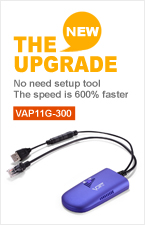 PM5G is a professional high power dual band WiFi repeater that is elaborately developed by HouTian Network, can work in both 5G and 2.4G band. PM5G is high performance WiFi Repeater, the transmission distance is 1km, the original creation D/A temperature compensated auto frequency control technology (TAFC), it solved the common failing of the traditional WiFi signal or WiFi products that easily drop the network, make sure the lasting stability, that the WiFi signal is not dropped, the main features as below:
1. Support both 2.4G and 5G;
2. Adopt the original creation D/A temperature compensated auto frequency control technology(TAFC),make sure the lasting stability to ensure that the WiFi signal is dropped;
3. Original creation VDNS virtual domain configuration technology to solve the user's trouble of configuration;
4. Support local WEB management, Chinese and English configuration interface;
5. Support WiFi intelligent bridge mode;
6. Support WiFi hot spots scan automatically and WiFi hot spot memory function;
7. Support 802.11ac, 802.11n WiFi transmission protocol;
8. Support to disable 2.4G and 5G WiFi network;
9. 5G WiFi transmission rate: 450Mbps
2.4G WiFi transmission rate: 300Mbps.
10.The WiFi channel of 5G 36.40.44.48.52.56.60.64
11.The maximum transmit power: 26dBm.
12.The work voltage: 5V-15V;
13.Good compatibility, almost compatible with all smart phones, tablet PCs, laptops, Internet and other WiFi devices
14.The transmission distance (without obstacle) : 1km.
In the software operation, Houtian network uphold the consistent simple, user-friendly design, abandoned the verbose of IP setup for traditional wireless repeater, using the virtual domain configuration techniques(VDNS)configuration, and also support the use of IE browser configuration and PC-specific software configuration(no IP connection), on the steps, it is even more concise, no redundant operations, which greatly facilitates the use of different levels of user.