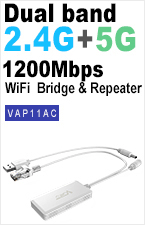 Hits:329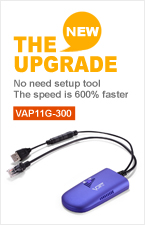 1.1 Hardware Features
Clocked of main chip: 580MHz
32Mb SDRAM,can be extended 64Mb; 8Mb SPI Flash, can be extended 16Mb(Byte).
WiFi working frequency:2.4GHz, 2T2R dual antenna, 300Mbps transmission rate.
Support 1-14WiFichannels.
Rated Power< 3W.
Output power of Module RF :13.5dbm--14.5dbm.
Adopt the original creation D/A temperature compensated auto frequency control technology (TAFC),make sure the lasting stability to ensure that the WiFi signal is not dropped.
Support 802.11b/g/n mode.
Operating ambient temperature:-25℃ ---- 55℃

1.2 Features
Two software-controllable operating modes:routing mode,Bridge+Repeater mode.
Support smart transparent bridge mode, also support AP Client and AP Station.
Independent hardware data processing, does not consume host system resources, without installing any drivers
In bridge mode, fool configuration to facilitate the secondary development implanted into other host systems.
Built-in WEB configuration services, available configure module parameters through the web.
Built-in SOCKET monitoring services, used to control two GPIO (1.5A) output, nine kinds of GPIO control state to facilitate the secondary development and function expansion.
Support VDNS technology, in bridge mode, can be configured via logging on the domain login page, solve the problem that configure and secondary development.
Two external antenna RF Female.
Support for online firmware upgrade.
无