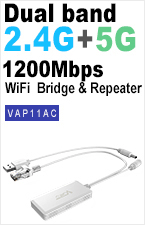 Hits:160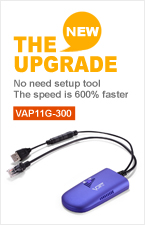 VAP11N-300 is a professional 300Mbps Mini WiFi Bridge, together with WiFi Repeater function, that is elaborately developed by HouTian Network, the original creation D/A temperature compensated auto frequency control technology(TAFC), it solved the common failing of the traditional WiFi router or WiFi products that easily drop the network, make sure the lasting stability to ensure that the WiFi signal is not dropped. It is based on IEEE 802.11N standard, can extend WiFi Network range, provides the stable transmission up to 300Mbps, also is compatible with IEEE 802.11B and IEEE 802.11G standard.
VAP11N-300 is a safe environmental WiFi signal Repeater. In WiFi bridge and repeater mode, VAP11N-300 can double extend the existing WiFi signal range, also can make sure the safey of WiFi signal. The work theory is: on the edge of the original WiFi hotspot signal coverage, put a VAP11N under "WiFi Repeater mode", VAP11N-300 will extend the weak WiFi signal receive to normal and safe strength and after optimization and error correction processing to reach the double extension of WiFi signal range under the premise security. It is different from traditional WiFi Signal amplifer—it just amplifies the signal and ignore the WiFi security.
VAP11N-300 provides three kinds of power supply methods, omits the worries of carrying a lot of power adapters, usage is more flexible; Plug and play, meet the flexible network solutions. VAP11N-300 has practical function, superior performance, is easy for management and provides multiple safe protective measure, can protect the security of user's WiFi network.
Enviromental, Safey, Portable, Mini

Traditional smart WiFi Bridge, together with WiFi repeater function.

WiFi smart bridge mode, it supports WiFi hotspot scan automatically and WiFi hotspot memory function.

The best partner of STB, IPTV, Sky Box, X-BOX, IP camera and SLR camera.

Support WEB remote firmware upgrade, can get the latest firmware free.
Support local WEB management, Chinese and English configuration interface.

Adopt the original creation D/A temperature compensated auto frequency control technology (TAFC), make sure the lasting stability to ensure that the WiFi signal is not dropped

Original creation VDNS virtual domain configuration technology to solve the user's trouble of configuration.

WiFi Hotspot (it is suitable for hotel room usage)

WiFi hotspot memory, maximum memory 100 hotspots;

Support connecting more than 20pcs WiFi terminal at the same time.

Support WPA-PSK/WPA2-PSK, 64/128/WEP security mechanism.
Support 802.11n WiFi transmission protocol, 300Mbps rate of transmission.
The transmission distance (without obstacle) : 80m
Wide voltage (DC5V-15V), Low power consumption ( <2W ), no need special power supply, can reduce electronic waste generated
Three Parallel DC power connector DC power interface (ACPI): DC2.5 power hole, DC2.0 power plug, USB interface ( for electricity use), it is convenient for customer to share power supply with devices.

In software operation, HouTian Network insists simple and humanized design, abandons the the complicate parameters and operations of traditional WiFi router, also supports two configure mode IE browser configuration and PC dedicated software configuration (no need IP connection), the procedure is so clear and concise, without redundancy, greatly facilitates the use of different levels of users.
IEEE 802.11g. IEEE 802.11b. IEEE 802.11n

1 DC2.0 power hole;

1 dedicated two in one power supply cable, with a set of power supply and a set of 10/100M adaptive Ethernet cable

Reset button (Long press)

Status instruction:

Ethernet cable status Light (Blue Light)

WiFi status Light (Green Light)

Built-in smart Omnidirectional antenna

59.5mm x 35mm x 11.5mm(L x W x H)
SSID hide;

Channel option: 1-14;

WiFi Hotspot scan automatically

WiFi Hotspot memory

AP smart mode(AP Client, AP Server), suit for IP TV, STBs;
Repeater mode (WiFi signal repeat), it can extend the distance of WiFi transfer

64/128/WEP encryption;

WPA-PSK/WPA2-PSK、WPA/WPA2 security mechanism

System function

Device reboot

Reset factory

Administrate account and password revise

Firmware upgrade