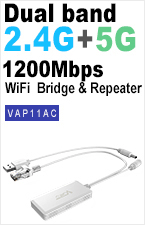 Hits:35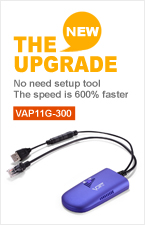 Product Characteristics :
Supports SIP 2.0, TCP/UDP/IP, RTP/RTCP, ICMP, ARP/RARP, NTP, PPPoE, TFTP, HTTP, etc
Supports G.711 (alaw and u-law), G.723.1 (5.3K/6.3K), G.726 (40K/32K/24K/16K), G.728, G.729A/B and iLBC..
Built-in Router, NAT, Gateway and DMZ port forwarding. Can also be configured to function as a two Ethernet ports bridge (NAT function is disabled)
Powerful digital signal processing (DSP) to ensure superb audio quality; advanced adaptive jitter control and packet loss concealment technology
Supports standard voice features such as Call keeping, Call Waiting, Hold, Transfer Forward, FLASH; Supports three way conference
Supports VAD, CNG, AGC, the echo cancellation (G.168) and Silence suppression.
Supports layer 2 (802.1Q VLAN, 802.1p) and layer 3 QoS (ToS, iffServ, MPLS)
Powerful remote management by TFTP or HTTP mode.
To dispose through the browser or the voice hint.
Supports auto-crossing firewall (NAT);
Supports CALL Progress free enactment function.
Supports the volume adjustment of gateway
Supports SIP encrypts mode, avoid force-out
Supports remote upgrade and upgrade configuration function
Supports passing through and T.38 fax mode.
Technical parameter:
| | |
| --- | --- |
| ATA (SIP2.0) | YES |
| Router / bridge /DHCP | YES |
| Ethernet port | 1WAN/1LAN(RJ45) |
| FXS | 1FXS |
| FXO | PSTN pass-through |
| Exit | YES |
| Size | 74X106X25mm |
| Weight | 0.38kg |
| Active status temperature | 0—40℃ |
| Humidity | 10%—95% |
| Power source adapter | AC IN: 100V-240V DC OUT: +9V/600mA Use power:<2.5W |
| Authentication | |
无