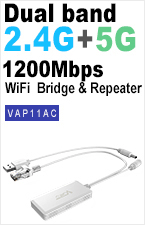 Hits:616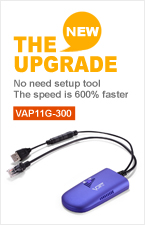 1. Industrial 5G WiFi bridge/repeater/router;
2. Support wide voltage DC5-24V power supply, two-stage automatic overvoltage protection (Protection voltage upper limit 27V);
3. Support 802.11AC, 802.11A, 802.11N WiFi transmission protocol;
4. WiFi transmission rate: 900Mbps;
5. RF Power: 19dBm/23dBm optional;
6. Point-to-point maximum transmission distance: 500 meters;
7. 2pcs 3dBi external antennas, can be extended by extension cable (optional);
8. Two 10/100Mbps adaptive Ethernet ports, and provide option accessories for expanding Ethernet port (one expansion);
9. WiFi hotspot memory, maximum memory 100 hotspots;
10. Support connecting more than 20pcs WiFi terminal at the same time;
11. Adopt VDNS virtual domain configuration technology to solve the user's trouble of configuration;
12. Support manually close SSID broadcast, WiFi hardware;
13. Support SSA signal strength detection reporting function to realize WiFi mobile positioning;
14. Support configuration parameter import and export function to facilitate batch configuration of engineering projects;
15. Support IP layer transparent transmission and MAC layer transparent transmission two bridge modes to meet various bridge applications:
IP layer transparent transmission (factory default), transparent transmission of IP layer data, can meet most of the bridge applications;
MAC layer transparent transmission all data above the MAC layer (link layer) and the MAC layer, including IP layer data; MAC transparent transmission can solve some special applications for MAC layer encryption, such as AP managed by AC,GoPro camera, Cisco AP, Hikvision monitoring. system, etc.
16. Adopt temperature compensated auto frequency control technology (TAFC), WiFi signal is more stable and not easy to drop;
17. Working environment temperature: -40 °C to 55 °C;
1)USB/DC power supply cable;

2)10/100M Adaptive Ethernet cable;

3)10/100M Adaptive Ethernet port (A dedicated Ethernet port expander can be used)

Status Indicator:

Ethernet port (cable) Status Light (Yellow);

WiFi Connection Status Light (Green);

System Status Light (Blue);

Reset button (Long press 5 seconds then release)

94mm x 45mm x 15mm(L x W x H)
IEEE 802.11AC、IEEE 802.11A、IEEE 802.11N;

1) Router mode, support WiFi WAN access and WAN/LAN exchange;

2) Transparent bridge (IP layer transparent, MAC layer transparent);

3) SSID broadcast exchange, WiFi hardware exchange;

4) WiFi mode option: 11AC/AN/A, 11AC/AN, 11A/N, 11A, 11N;

5) WiFi hotspot automatic reconnection, two hotspot matching methods: Full match authentication mode, SSID and password authentication mode;

6) SSA signal strength detection and reporting function ;

7) Hotspot connection parameter import and export function;

36、40、44、48、52、56、60、64、100、104、108、112、116、120、124、128、132、136、140、149、153、157、161、165

Normal Power: 19dBm;

Enhanced Power: 23dBm.

Compliance acceptance sensitivity

WiFi Router;

WiFi Repeater (WiFi signal repeater), can extend WiFi transmission distance;

WiFi Bridge: IP layer transparent transmission, MAC layer transparent transmission;

WiFi access point (AP);

64/128/WEP encryption;

WPA-PSK/WPA2-PSK、WPA/WPA2 security mechanism

Firmware Upgrade

Reboot device

Reset factory

Account and password revise
无