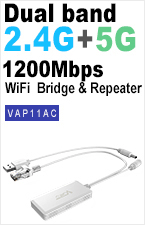 Hits:5894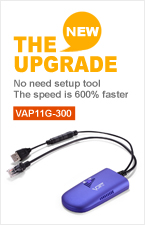 Hardware Features:
1. Support wide voltage DC5-15V power supply, two-stage automatic overvoltage protection (Protection voltage upper limit 15.5V);
2. The output power of the power supply is not less than 10W (typical power supply 5V/2A, ripple less than 100mV);
3. Module power supply: 1.3W -- 3.75W;
4. WiFi Work Band: 2.4G + 5G;
5. WiFi transmission rate: 300Mbps(2.4G)+900Mbps(5G);
6. RF Power: 2.4G is 15dBm/16.5dBm optional, 5G is 19dBm/23dBm optional;
7. The transmission distance (5G without obstacle): 500 meters;
8. The module built-in LNA, the receiving sensitivity is 14dBi;
9. Standard package external antenna: 2*3dBi 2.4G antennas, 2*3dBi 5G antennas;
10. Adopt temperature compensated auto frequency control technology, WiFi signal is more stable and not easy to drop;
11. The aluminum alloy shell has good heat dissipation characteristics, which can quickly dissipate the heat generated when the device is working;
12. Work Environment temperature: -20℃ to 55℃.
Function Features:
1. Support router and bridge repeater mode;
2. In router mode, support WiFi WAN access;
3. In router mode, support WAN/LAN exchange of wired network ports;
4. Support WiFi smart bridge repeater, can achieve WiFi to wired, wired to WiFi function;
5. Support 802.11ac, 802.11a, 802.11n and so on transmission protocol;
6. Support WiFi hotspot automatic reconnection, two hotspot matching methods: Full match authentication mode, SSID and password authentication mode;
7. WiFi hotspot memory, maximum memory 100 hotspots;
8. Support connecting more than 20pcs WiFi terminal at the same time;
9. Support SSA protocol, built-in hotspot signal strength detection and reporting function to realize WiFi mobile positioning;
10. Support hotspot forced disable, WiFi hardware forced disable;
11. Hotspot connection parameter import and export function;
12. Adopt VDNS virtual domain configuration technology to solve the user's trouble of configuration;
13. Support WEB management, Chinese and English configuration interface;
14. Support upgrade online;
15. Support IP layer transparent transmission and MAC layer transparent transmission two bridge modes to meet various bridge applications:
IP layer transparent transmission (factory default), transparent transmission of IP layer data, can meet most of the bridge applications;
MAC layer transparent transmission all data above the MAC layer (link layer) and the MAC layer, including IP layer data; MAC transparent transmission can solve some special applications for MAC layer encryption, such as AP managed by AC, GoPro camera, Cisco AP, Hikvision monitoring, system, etc.
Hardware Spec
LED

Status Indication:

Ethernet Port Status Light (Yellow);

2.4G WiFi Connection Status Light (Blue);

5G WiFi Connection Status Light (Green);

Antenna Interface

2*3dBi 2.4G Glue stick antennas

2*3dBi 5G Glue stick antennas

Module Size

84mm x 45mm x 15mm(L x W x H)

Module Weight(Including Antennas)

133.8g
WiFi Related
Protocol Standard

IEEE 802.11ac, IEEE 802.11a;

IEEE 802.11n, IEEE 802.11g, IEEE 802.11b;

WiFi Transmission rate

2.4GHz band: 300Mbps

5GHz band: 900Mbps

Basic Function

1) Router mode, support WiFi WAN access and WAN/LAN exchange;

2) Transparent bridge (IP layer transparent, MAC layer transparent);

3) WiFi Hotspot exchange, WiFi hardware exchange;

4) 2.4G WiFi mode option: 11B/G/N, 11B/G, 11N, 11G, 11B; 5G WiFi mode option: 11AC/AN/A, 11AC/AN, 11A/N, 11A, 11N;

5) WiFi hotspot automatic reconnection, two hotspot matching methods: Full match authentication mode, SSID and password authentication mode;

6) WiFi hotspot memory, maximum memory 100 hotspots;

7) SSA signal strength detection and reporting function ;

8) Hotspot connection parameter import and export function;

Supported Band

2.4G band channel: 1-14;

5G band channel: 36, 40, 44, 48, 52, 56, 60, 64, 100, 104, 108, 112, 116, 120, 124, 128, 132, 136, 140, 149, 161, 165

WiFi RF Power

2.4G: Normal Power: 15dBm; Enhanced Power: 16.5dBm.

5G: Normal Power: 19dBm; Enhanced Power: 23dBm.

Compliance acceptance sensitivity

-69dbm (2.4G)

-75dbm (5G)

LNA Sensitivity

14dBi

Application Method

WiFi Repeater (WiFi signal repeater), can extend WiFi transmission distance;

WiFi Bridge: IP layer transparent transmission, MAC layer transparent transmission;

WiFi access point (AP);

WiFi Security

64/128/WEP security;

WPA-PSK/WPA2-PSK, WPA/WPA2 Security mechanism;

System Function

Firmware Upgrade

Reboot device

Reset factory

Account and password revise
无