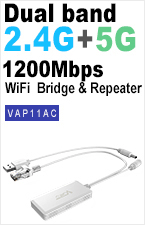 Hits:12068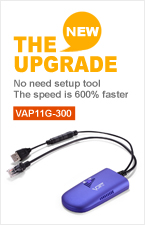 Hardware Features:
1. Support wide voltage DC5-15V power supply, two-stage automatic overvoltage protection (Protection voltage upper limit 15.5V);
2. The output power of the power supply is not less than 10W (typical power supply 5V/2A, ripple less than 100mV);
3. Module power supply: 1.3W -- 3.75W;
4. WiFi Work Band: 2.4G + 5G;
5. WiFi transmission rate: 300Mbps(2.4G)+900Mbps(5G);
6. RF Power: 2.4G is 15dBm/16.5dBm optional, 5G is 19dBm/23dBm optional;
7. The transmission distance (5G without obstacle): 700 meters;
8. The module built-in LNA, the receiving sensitivity is 14dBi;
9. Standard package external antenna: 2*3dBi 5G antennas, 2*5dBi 2.4G antennas;
10. Provide a TTL level UART data transparent transmission interface;
11. Adopt temperature compensated auto frequency control technology, WiFi signal is more stable and not easy to drop;
12. Work Environment temperature: -20℃ to 55℃.
Function Features:
1. Support router and bridge repeater mode;
2. In router mode, support WiFi WAN access;
3. In router mode, support WAN/LAN exchange of wired network ports;
4. Support WiFi smart bridge repeater, can achieve WiFi to wired, wired to WiFi function;
5. Support 802.11ac, 802.11a, 802.11n and so on transmission protocol;
6. Support UART/UDP data transmission;
7. Support WiFi hotspot automatic reconnection, two hotspot matching methods: Full match authentication mode, SSID and password authentication mode;
8. WiFi hotspot memory, maximum memory 100 hotspots;
9. Support connecting more than 20pcs WiFi terminal at the same time;
10. Support SSA protocol, built-in hotspot signal strength detection and reporting function to realize WiFi mobile positioning;
11. Support hotspot forced disable, WiFi hardware forced disable;
12. Hotspot connection parameter import and export function;
13. Adopt VDNS virtual domain configuration technology to solve the user's trouble of configuration;
14. Support WEB management, Chinese and English configuration interface;
15. Support upgrade online;
16. Support IP layer transparent transmission and MAC layer transparent transmission two bridge modes to meet various bridge applications:
IP layer transparent transmission (factory default), transparent transmission of IP layer data, can meet most of the bridge applications;
MAC layer transparent transmission all data above the MAC layer (link layer) and the MAC layer, including IP layer data; MAC transparent transmission can solve some special applications for MAC layer encryption, such as GoPro camera, Cisco AP, Hikvision monitoring, system, etc.
Hardware Spec
LED

Status Indication:

Ethernet Port Status Light (Yellow);

2.4G WiFi Connection Status Light (Blue);

5G WiFi Connection Status Light (Green);

Antenna Interface

2*3dBi 2.4G Whip antennas

2*3dBi 5G Whip antennas

Module Size

65mm x 38mm x 8.3mm(L x W x H)

Module Weight(Including Antennas)

115g
WiFi Related
Protocol Standard

IEEE 802.11ac, IEEE 802.11a;

IEEE 802.11n, IEEE 802.11g, IEEE 802.11b;

WiFi Transmission rate

2.4GHz band: 300Mbps

5GHz band: 900Mbps

Basic Function

1) Router mode, support WiFi WAN access and WAN/LAN exchange;

2) Transparent bridge (IP layer transparent, MAC layer transparent);

3) WiFi Hotspot exchange, WiFi hardware exchange;

4) 2.4G WiFi mode option: 11B/G/N, 11B/G, 11N, 11G, 11B; 5G WiFi mode option: 11AC/AN/A, 11AC/AN, 11A/N, 11A, 11N;

5) WiFi hotspot automatic reconnection, two hotspot matching methods: Full match authentication mode, SSID and password authentication mode;

6) WiFi hotspot memory, maximum memory 10 hotspots;

7) SSA signal strength detection and reporting function ;

8) Hotspot connection parameter import and export function;

Supported Band

2.4G band channel: 1-14;

5G band channel: 36, 40, 44, 48, 52, 56, 60, 64, 100, 104, 108, 112, 116, 120, 124, 128, 132, 136, 140, 149, 161, 165

WiFi RF Power

2.4G: Normal Power: 15dBm; Enhanced Power: 16.5dBm;

5G: Normal Power: 19dBm; Enhanced Power: 23dBm.

Compliance acceptance sensitivity

-69dbm (2.4G)

-75dbm (5G)

LNA Sensitivity

14dBi

Application Method

WiFi Repeater (WiFi signal repeater), can extend WiFi transmission distance;

WiFi Bridge: IP layer transparent transmission, MAC layer transparent transmission;

WiFi access point (AP);

WiFi Security

64/128/WEP security;

WPA-PSK/WPA2-PSK, WPA/WPA2 Security mechanism;

System Function

Firmware Upgrade

Reboot device

Reset factory

Account and password revise
无