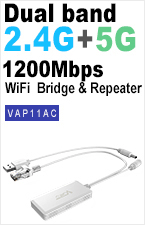 Hits:523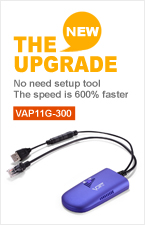 1. Support wide voltage DC5-15V power supply, two-stage automatic overvoltage protection;
2. Suppot both 2.4G and 5G band;
3. RF power: 2.4G--14.5dBm, 5G 21dBm/23dBm optional;
4. Support WiFi transmission protocols such as 802.11ac and 802.11n;
5. WiFi transmission rate: 300Mbps (2.4G) + 900Mbps (5G);
6. Point-to-point barrier-free maximum transmission distance: 300 meters (802.11A);
7. WiFi hotspot memory, maximum memory 100 hotspots;
8. Support connecting more than 20pcs WiFi terminal at the same time;
9. Adopt temperature compensated auto frequency control technology (TAFC), WiFi signal is more stable and not easy to drop;
10. Original creation VDNS virtual domain configuration technology to solve the user's trouble of configuration;
11. Built-in heat sink with convection cooling holes on both sides of the housing for more efficient heat dissipation;
12. WiFi smart bridge function, WiFi to wired, wired to WiFi smart exchange;
13. Support manually close SSID broadcast, manually close WiFi hardware;
14. Support WEB management, Chinese and English configuration interface;
15. Support SSA signal strength detection and reporting function to realize WiFi mobile positioning;
16. Working environment temperature: -40 ° C to 55 ° C;
17. Support IP layer transparent transmission and MAC layer transparent transmission two bridge modes to meet various bridge applications:
IP layer transparent transmission (factory default), transparent transmission of IP layer data, can meet most of the bridge applications;
MAC layer transparently transmits all data above the MAC layer (link layer) and the MAC layer, including IP layer data;
MAC transparent transmission can solve some special applications for MAC layer encryption, such as AP managed by AC,GoPro camera, Cisco AP, Hikvision monitoring system, etc.
Protocol Standards

IEEE 802.11ac, IEEE 802.11a;

IEEE 802.11n, IEEE 802.11g, IEEE 802.11b;

Transmission rate

2.4GHz band: 300Mbps

5GHz band: 900Mbps

External interface

A USB/DC power cable;

A set of 10/100m adaptive Ethernet cable

Button

Reset button (long press 5 seconds, then release, the device will automatically restore the factory )

LED

Status instruction:

Ethernet port status light (Yellow);

2.4G WiFi connection status light (Blue);

5G WiFi connection status light (Green);

Antenna

Built-in 2pcs Smart omnidirectional 2.4G Antennas, 1.5dbi;

Built-in 2pcs Smart omnidirectional 5G Antennas, 1.5dbi;

Product size

94mm x 45mm x 15mm(L x W x H)

Item weight

72g